Tara Tips...

FREE things to do ...

...to increase CURB APPEAL:

Trim grass along the edge of the sidewalk!

Pick up any trash, cigarette butts or doggie doo!

Broom steps/porch and vacuum outdoor carpeting!

Find another home for shoes, toys, trash, junk!

Remove lighting globe and wash inside and out!

Wash your screen/storm door and your front door!

Remove excess porch furniture!

                                               ...to make your ENTRY MORE INVITING:

Organize shoes and/or store conveniently!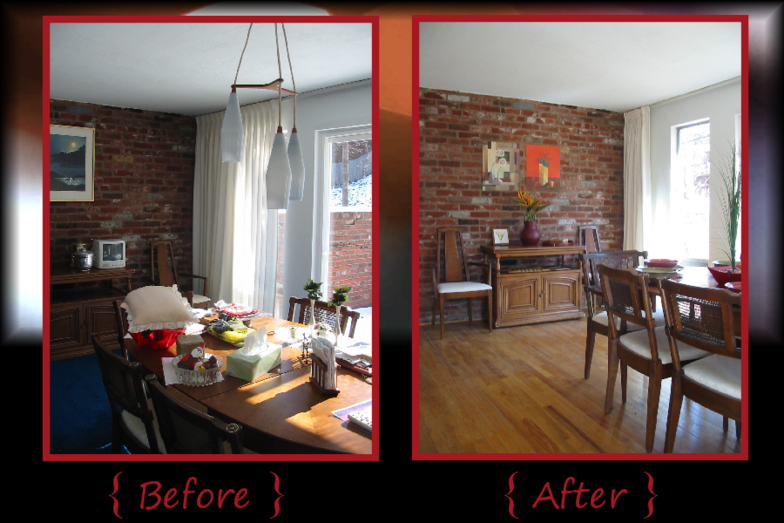 In today's market, selling your home can be challenging. I was a Realtor for 11 years. I understand the significance of selling your home for (1.) the most amount of money (2.) in the quickest amount of time (3.) for the least amount of aggrevation. 

Above anything else, your home MUST BE priced agressively for it's condition. An overpriced home will not sell within the 3 guidelines mentioned above. Taking this a step further, it is imparative to make a positve first impression! 

This is where staging your home comes in. You love your home the way it is, but that doesn't mean everyone else will. You need your home to appeal to the majority and with a few implements, you can do so. Most of which are simple, cheap, free and easy. The hardest part is allowing you're emotions to accept the change while your home is on the market. Just remember, this will only be for a short while and will allow you to move quicker into the next chapter of your life. 

Also, if you are looking for a new place, think about your impressions of when you view a home. You probably notice if the house smells like doggie, if it is painted a crazy color or is dirty and cluttered. You don't want to buy it, right? Well, someone won't want to buy yours either.

When preparing your home, it's not about doing a few things on the list. You must do everything on the list! All aspects must work in harmony in order for this to work successfully.

CHEAP things to do ...

...to increase CURB APPEAL:

Add "bling" by spray painting mailboxes, address numbers, lighting fixtures, door knobs and doorbells in gold, silver/chrome or copper!

Plant in-ground flowers, plants & shrubs!

Add potted flowers to steps and porch!

Make or buy window boxes and plant with flowers!

Paint front door a complimentary color!

Hang coats, hats and book bags on wall hooks!

PREPARE your home for Photos, Virtual Tour and Showings!

After you have made changes from the 
FREE and CHEAP checklist
, you must prepare your home for marketing once you are ready to list. (You might be surprised to find out that agents/photgraphers don't do these things for you!) For the best results:
Turn on all lights, lamps and under cabinet lighting!

Straighten hanging towels!

Hide/remove valuables, especially jewelry!

Keep dirty clothes neatly in clothes baskets and tucked away!

Keep interior temperature comfortable so buyers stay longer!